OFFICIAL DESCRIPTION FROM THE SOUNDWAVES WEBSITE: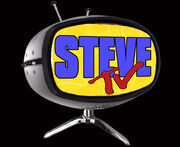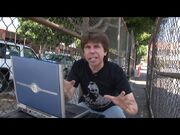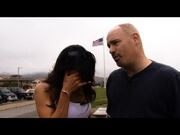 Dennis Willis and Moira Szasz open what they think will be a fun reunion show (hosting together for the first time in years) -- but Steven Kirk has other plans.  There's some serious rockin' to do!  In no time, Kirk hacks into the signal and SteveTV comes alive with classic rock and roll videos from the acts that inspired Steve to be the hell-raiser he is today!  (Honestly, would we expect any less?) 
Moving from hot rocker chicks (Heart, the Bangles) to rockers who dig hot chicks (Van Halen, David Lee Roth, Adam Ant); to the fashion stylings of one Mick Jagger (the term "delightful salmon-colored fedora" still has the SWTV office giggling); and pinpointing the exact moment he switched off the AM radio forever.
SteveTV is a blast of the greatest rock and roll of the past quarter century.  Jack Black would be proud.
Oh, and don't miss the last segment, in which Steve returns "to your regularly scheduled Soundwaves, now in progress."  Did we miss a wardrobe malfunction…and why is Dennis smiling?
PLAYLIST:
Madness, "Our House"
Devo, "Whip It"
Van Halen, "Hot For Teacher"
David Lee Roth, "California Girls"
Bangles, "Going Down To Liverpool"
Heart, "These Dreams"
The Verve, "Bitter Sweet Symphony"
Rolling Stones, "Waiting On A Friend"
ZZ Top, "Doubleback"
Robert Palmer, "Addicted To Love"
Cheap Trick, "She's Tight"
Adam Ant, "Strip"
AC/DC, "You Shook Me All Night Long"
J. Giels Band, "Freeze Frame"