We're Getting Mutants in the MCU - The Loop
Play Sound
Soundwaves #1
[
]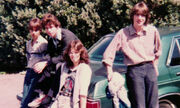 After a two-week preview, Soundwaves premiered Wednesday, March 30, 1983 with a two-hour special. Unlike the other music request shows on Pacifica Community Television, which were content to show a title card and little else, Soundwaves set itself apart with a first episode that maximized the small studio space with three different sets. The format was still an afterschool request show, but added a visual component: a bunch of kids hanging out in a big space listening to music and interacting.
16-year-old Dennis Willis produced and hosted, and was joined by many members of the same crew who had worked on his previous show, The D&D Rock Show. The other "D," Deane Walker, returned to help launch the new show.
Year One - and Changes
[
]
Soundwaves continued to evolve during it's first year, adding popular local DJ Steve Maggioncalda, location shoots, and a varied music blend. Soon after premiering, Soundwaves had a companion show in Live Wire, hosted by Willis' good friend Sean Okin on Thursday afternoons. The two shows shared similar formats, but Live Wire skewed more hevaily toward hard rock and heavy metal. Willis decided to set the two shows apart by focusing on just about every other genre, from ballads (a popular request) to early hip-hop and pop music.
1983 Episodes
[
]
Soundwaves aired 37 live episodes during 1983.
| EP# | AIR DATE | HIGHLIGHT |
| --- | --- | --- |
| 1 | 3/30/83 | Soundwaves #1 |
| 2 | 4/06/83 | |
| 3 | 4/13/83 | Steve Maggioncalda Interview |
| 4 | 4/20/83 | |
| 5 | 4/27/83 | |
| 6 | 5/04/83 | |
| 7 | 5/11/83 | |
| 8 | 5/18/83 | |
| 9 | 5/25/83 | |
| 10 | 6/01/83 | |
| 11 | 6/08/83 | |
| 12 | 6/15/83 | |
| 13 | 6/22/83 | |
| 14 | 6/29/83 | |
| 15 | 7/06/83 | New Set |
| 16 | 7/13/83 | |
| 17 | 7/20/83 | |
| 18 | 7/27/83 | |
| 19 | 8/03/83 | |
| 20 | 8/10/83 | |
| 21 | 8/17/83 | |
| 22 | 8/24/83 | |
| 23 | 8/31/83 | |
| 24 | 9/07/83 | |
| 25 | 9/21/83 | Hollywood Connection Remote |
| 26 | 9/28/83 | |
| 27 | 10/05/83 | |
| 28 | 10/12/83 | |
| 29 | 10/19/83 | All-Country Requests |
| 30 | 10/26/83 | Halloween Edition |
| 31 | 11/02/83 | |
| 32 | 11/09/83 | Steve Maggioncalda's 1st Episode |
| 33 | 11/16/83 | |
| 34 | 11/23/83 | |
| 35 | 12/07/83 | Strut Dance Contest |
| 36 | 12/14/83 | |
| 37 | 12/21/83 | The Year in Music '83 |