1985: Welcome to the  Party
[
]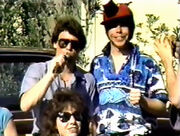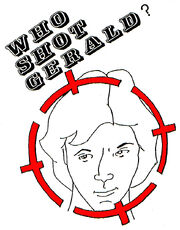 Many of Soundwaves' early classic moments and most popular shows happened during 1985. Steven Kirk joined the cast, and the production would routinely destroy the studio in pursuit of the Greatest Show Ever. It was not uncommon to have the show take place on location at a theme park one week and unfold as a live outdoor dance party the next.
But the height of audacity was "Who Shot Gerold," a live stunt that set up a mystery before appearing to "shoot" the show's director Gerold Gorman offscreen. The local police responded swiftly, and management was not amused.
Other 1985 highlights were "The Investigation," the follow-up with Kirk portraying The Pink Panther's Inspector Clouseau (and summarily destroying the studio), many Soundwaves Exclusive music videos, including Madonna's "Into the Groove," and "The Trial," a faux movie trailer. "Election Daze" took place on the set of the previous night's election special.
1985 Episodes
[
]
Soundwaves aired 46 live episodes during 1985.
| EP# | AIR DATE | HIGHLIGHT |
| --- | --- | --- |
| 90 | 1/2/1985 | |
| 91 | 1/9/1985 | |
| 92 | 1/16/1985 | |
| 93 | 1/23/1985 | |
| 94 | 1/30/1985 | |
| 95 | 2/6/1985 | Guest: Jules Broussard, Santana |
| 96 | 2/13/1985 | Valentine's Day |
| 97 | 2/20/1985 | Oakland Invaders tix |
| 98 | 2/27/1985 | Salute to Prince |
| 99 | 3/6/1985 | |
| 100 | 3/13/1985 | 100th Episode / Dance Party / Bloopers |
| 101 | 3/20/1985 | |
| 102 | 3/27/1985 | |
| 103 | 4/3/1985 | |
| 104 | 4/10/1985 | Steven Kirk's first show |
| 105 | 4/17/1985 | |
| 106 | 4/24/1985 | World Premiere: Madonna's Into The Groove video |
| 107 | 5/1/1985 | |
| 108 | 5/8/1985 | |
| 109 | 5/15/1985 | |
| 110 | 5/22/1985 | |
| 111 | 5/29/1985 | |
| 112 | 6/5/1985 | Oceana High School Dance Party |
| 113 | 6/12/1985 | Terra Nova High School Dance Party |
| 114 | 6/19/1985 | Who Shot Gerold? |
| 115 | 6/26/1985 | The Investigation |
| 116 | 7/3/1985 | 4th of July Blitz (Outdoor) |
| 117 | 7/10/1985 | "John Taylor" Phone Call |
| 118 | 7/17/1985 | Great America II (Taped at Great America) |
| 119 | 7/24/1985 | |
| 120 | 7/31/1985 | |
| 121 | 8/7/1985 | |
| 122 | 8/14/1985 | |
| 123 | 8/21/1985 | |
| 124 | 8/28/1985 | Hatelines (Break-up requests) |
| 125 | 9/4/1985 | |
| 126 | 9/25/1985 | Season Premiere |
| 127 | 10/2/1985 | |
| 128 | 10/9/1985 | |
| 129 | 10/16/1985 | Dance Party (Myrna's Birthday, cake fight) |
| 130 | 11/6/1985 | Election Daze (Steven Kirk hosts the show from the previous night's election set) |
| 131 | 11/13/1985 | |
| 132 | 11/20/1985 | |
| 133 | 12/4/1985 | |
| 134 | 12/11/1985 | |
| 135 | 12/18/1985 | Dance Party (Christmas, elevated stage) |