Jurassic World: Dominion Dominates Fandom Wikis - The Loop
Play Sound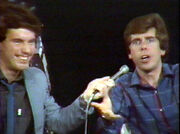 1986: The Party's Over
[
]
If 1985 was all about the party getting started, 1986 quickly became about the party getting a little out of control. The year started with a turnover in the studio. Many of the regulars that hung out in the studio and became characters of the show departed en masse.
There was also growing strife between PCT management and the show. By now, producer and host Dennis Willis was a mobile DJ, and routinely brought his large speakers in, as well as an amplifier, in order to create a party environment.
Director Gerold Gorman had his own process, and would bring equipment into the control room as well. On occasion, something would not get plugged back in.
Despite some noteworthy local DJ guests, some well-recieved shows (including a D&D Rock Show reunion of Willis and Deane Walker), and a healthy following, Soundwaves seemed to spiral out of control with every passing week. One notorious episode featured Kirk intoxicated on the air.
THE WRITING ON THE WALL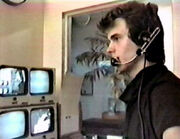 In order to appease a worsening situation, Willis agreed to hand producing duties over to Steven Kirk, who also assumed directing duties from Gorman. On one occasion, Kirk hosted and Willis directed the show, appearing occasionally from the booth. But following the April 30th show, management was done with Soundwaves.
Willis explains, "The final straw was an unplugged studio monitor that was plugged back in during the next live show, which happened to be a historical society show with a couple of old ladies hosting. We're told it was like that Maxell commercial with thier hair being blown back!"
Kirk pleaded the show's case but manager Richard Hankins put his foot down. After 152 shows (and the 65 D&D Rock Show episodes that preceeded it), Soundwaves was canceled until 1988.
1986 Episodes
[
]
Soundwaves aired 17 live episodes during 1986 before being canceled.
| EP# | AIR DATE | HIGHLIGHT |
| --- | --- | --- |
| 136 | 1/8/1986 | |
| 137 | 1/15/1986 | The Birthday Show (Dennis Willis, Deane Walker and Steven Kirk celebrate their birthdays) |
| 138 | 1/22/1986 | Star TV |
| 139 | 1/29/1986 | |
| 140 | 2/5/1986 | |
| 141 | 2/12/1986 | |
| 142 | 2/19/1986 | |
| 143 | 2/26/1986 | America the Overplayed / DG Tilton vs. Casey Kasem |
| 144 | 3/5/1986 | |
| 145 | 3/12/1986 | |
| 146 | 3/19/1986 | Steven Kirk hosts / Dennis Willis directs |
| 147 | 3/26/1986 | Shit-faced |
| 148 | 4/2/1986 | Guest: Ty Bell, KMEL-FM |
| 149 | 4/9/1986 | Flashbacks |
| 150 | 4/16/1986 | 150th Episode/Dance Party |
| 151 | 4/23/1986 | Guest: Christopher Lance, KMEL-FM |
| 152 | 4/30/1986 | Steven Kirk directs / Canceled |