Jurassic World: Dominion Dominates Fandom Wikis - The Loop
Play Sound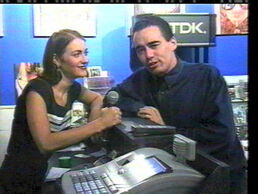 Soundwaves Pulled from Schedule

[

]
With no fanfare or announcement, production on Soundwaves was halted following the Christmas special due to Willis' suspension from PCT. The crime: One videotape, needed to complete a reel for the fundraiser ... taken from a locked closet without permission. The punishment: Six months' suspension and a loss of key privileges.
While technically on the wrong side of the law, Willis offered up the informtion "to be honest," and was disciplined by then-general manager Jack Shafer. "I was infuriated. I mean, we were doing a fundraiser the next day and nobody was around at two in the morning! He didn't have to be like that."
This only exascerbated the tension between Willis and Shafer.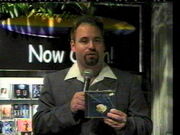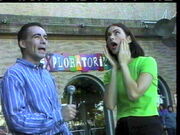 1997 Episodes
[
]
Once Soundwaves resumed production, it came out of the gate like a charging bull. The show aired four summer episodes before shifting into a 4-week countdown hyping the new format. Once "Evolution" aired on October 15, 1997, it marked a stylistic shift from the grungier vibe that had defined the more casual episodes from 1995-96.
The overall aesthetic of pop and hip-hop music videos had shifted to a more colorful, glamourous style, so the order of the day became to dress sharp and embrace a looser delivery style. "Return of the Mack" marked the return of Joe McCaffrey after a 9-month absence. "Evolution" introduced new host Juli Tolleson.
EP#
AIR DATE
TITLE
255
7/09/97
"

Return of the Mack

"
256
7/23/1997
"The Coast Is Toast"
257
8/12/1997
"The Making of Soundwaves"
258
8/24/1997
"Make It A Video Plus Night"
259
9/10/1997
"The Countdown Begins"
260
9/24/1997
"Countdown 2"
261
10/1/1997
"Countdown 3"
262
10/8/1997
"Countdown 4"
263
10/15/1997
"

Evolution

"
264
11/4/1997
"

Life Goes On

"
265
11/26/1997

"Tales From the Fishbowl" (featuring lost Tupac Shakur footage, Guest: Big Shrimp!)

266
12/20/1997
"Christmas Preview" (Pedro Point sunset, no hosts)
267
12/20/1997
"8x Pre-Game Show"
268
12/20/1997
"8th Annual Soundwaves Christmas Party"