Jurassic World: Dominion Dominates Fandom Wikis - The Loop
Play Sound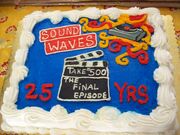 "The Big Announcement"
[
]
Soundwaves returned on July 9, 2008 after teasing a major announcement. On that show, #490 ("The Big Announcement"), Dennis Willis and Steven Kirk announce in Los Angeles that because of mounting problems dealing with music labels and an overall sense of accomplishment, that this 11-episode run will be Soundwaves' last, culminating with their 500th show. Joe McCaffrey and Moira Szasz return for the Pacifica portion of the show and react to the news, offering that the next ten weeks will offer a long look back, complete with reunions and surprises.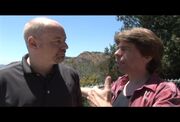 The Los Angeles segments were directed by award-winning filmmaker James Kerwin (Yesterday Was a Lie), while the Pacifica segments were helmed by Wayne Hess , who would oversee the bulk of the coming shows.
Final Episodes
[
]
Willis and his crew decided to treat the final shows as one long look back at a quarter century of Soundwaves: the most noteworthy music, moments and stories from the road.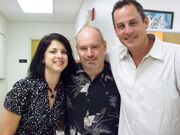 The shows were anchored by Soundwaves' trio of hosts, Willis, Kirk and McCaffrey. Many previous hosts returned to say goodbye and share stories, among them: Catherine Abogado (1983-86), Steve Maggioncalda (1983-85), LaWonda Eastwood (1985-92), Moira Szasz (1994-96), Suzanne St. John-Crane (1995-98), Jennifer Stanonis (2001-2003) and Jason DiLorenzo (2003-2006). The penultimate episode, "The Interview Show," was an hour-long conversation hosted by Willis' longtime FilmTrip and Flick Nation co-host Steve Wagner.
| EP# | DATE | TITLE |
| --- | --- | --- |
| 490 | 7/09/08 | "The Big Announcement" |
| 491 | 7/16/08 | "Breaking Ground" |
| 492 | 7/23/08 | "Hip Hop Hooray" |
| 493 | 8/06/08 | "Steve TV" |
| 494 | 8/13/08 | "Soundwaves Top 100, Part 1" |
| 495 | 8/20/08 | "Soundwaves Top 100, Part 2" |
| 496 | 8/27/08 | "Gone Bananas" |
| 497 | 9/03/08 | "A Long Strange Trip" |
| 498 | 9/10/08 | "Back to School" |
| 499 | 9/24/08 | "The Interview Show" |
| 500 | 10/01/08 | "Wrap Party" |