Jurassic World: Dominion Dominates Fandom Wikis - The Loop
Play Sound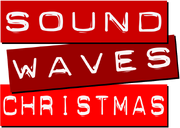 Soundwaves Christmas was accidentally born on December 15, 1989 when 
Dennis Willis and Steven Kirk hosted the Soundwaves 30-Hour Marathon , held primarily to break an existing Bay Area broadcasting record.
But the Loma Prieta earthquake had recetly occurred and local food bands had been adversely impacted. To have something to talk about, they asked viewers to deliver donations of non-perishable foos, and were pleasantly surprised when the studio slowly began to fill up. 
The tradition continued, with the modest show expanding to include live musical acts, pre-taped segments and coverage that included the entire Bay Area. 
Title
Broadcast Date
Soundwaves 30-Hour Marathon
12/15/89
Soundwaves Christmas Special
12/15/90
2nd annual Soundwaves Christmas Special
12/15/91
3rd annual Soundwaves Christmas Party
12/19/92
4th annual Soundwaves Christmas Party
12/14/93
5th annual Soundwaves Christmas Party
12/17/94
6th annual Soundwaves Christmas Party
12/16/95
7th annual Soundwaves Christmas Party
12/15/96
8th annual Soundwaves Christmas Party
12/20/97
9th annual Soundwaves Christmas Party
12/19/98
10th annual Soundwaves Christmas Party
12/18/99
11th annual Soundwaves Christmas Party
12/17/00
12th annual Soundwaves Christmas Party
12/16/01
13th annual Soundwaves Christmas Party
12/15/02
14th annual Soundwaves Christmas Party
12/14/03
15th annual Soundwaves Christmas
12/04/04
16th annual Soundwaves Christmas
12/04/05
17th annual Soundwaves Christmas
12/02/06
18th annual Soundwaves Christmas
12/08/07
19th annual Soundwaves Christmas
12/06/08
20th annual Soundwaves Christmas
12/05/09
21th annual Soundwaves Christmas
12/11/10
22nd annual Soundwaves Christmas
12/11/11
23rd annual Soundwaves Christmas

12/12/12 (Online)

12/15/12 (TV)

24th annual Soundwaves Christmas
12/14/13
25th annual Soundwaves Christmas
12/06/14